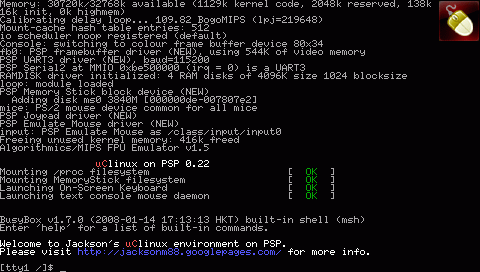 It is the newest kernel 2.6.22-uc1 and also comes with added extras including 'Busybox 1.7', a serial driver to control the remote control port on the original PSP, block device driver for Memory Stick access, Joypad driver for PSP button use, On-screen keyboard, mips toolchain for building custom programs, and more… Check out the link below to his website to find out all the features and files!
To install the pre-compiled package to the PSP, is as simple as extracting it to the GAME150 directory on the Memory Stick!
Awesome Jackson! Keep up the good work!
His website is https://sites.google.com/site/linuxonpspproject/